This is an odd collection of pictures that have two things in common:
I'm in them, and
somebody either posted or e-mailed a digital copy to me.
They're arranged roughly in reverse chronological order (i.e., newest ones at the top). Click on the 'thumbnail' image to see the bigger version.
ETAPS '99
| | |
| --- | --- |
| | Here's me discussing information hiding with Bjarne Stroustrup. (If you don't know who he is then you're obviously not geeky enough to appreciate this page.) |
| | A crowd scene. |
| | And here I am discussing something else with another ETAPS '99 attendee. Can you read his name-tag? |
Misc.
| | |
| --- | --- |
| | This is me kayaking on Ocean Pond with my photographer friend David Hebbard. You can be sure he claims copyright to this photo. |
Post RE '97 Trip
These were all taken on a cross-country skiing trip that I took following RE '97.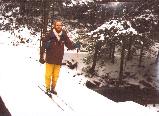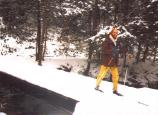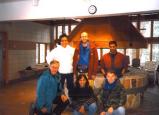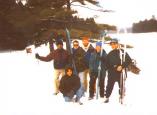 ---
Back to Dennis Peters' homepage
Last modified: Fri Jun 22 13:32:06 NDT 2007 by Dennis Peters