Obituary of Stevens Thompson Norvell (Jr.)
Versio en Esperanto (x-sistemo)
Stevens Thompson Norvell (Jr.) died 7 February, 2015, four days short of his 92nd birthday, after a short illness.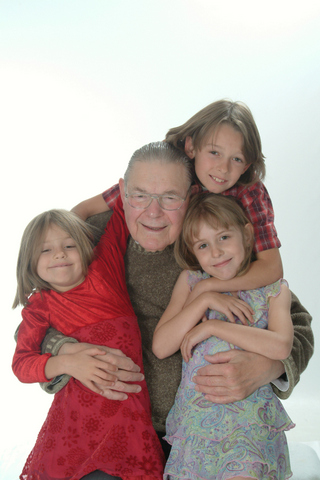 He was born in Hinsdale, Illinois on 11 February, 1923, the first of three children of Stevens Thompson Norvell and Cora Uvon Kellam Norvell. He and his two sisters (Audrey Jean, 1927, and Coralie Mae, 1929) grew up in Western Springs, a small suburb about 30 km. southwest of Chicago, Illinois, U.S.A. He attended grade schools in Western Springs and later, Lyons Township High School and Lyons Township Junior College (an academic track institution) in near by LaGrange, Illinois. While a Boy Scout, he learned Esperanto, a life-long avocation, by self-instruction. He was consistently listed on the high honour roll in the last three years of high school and graduated second in his class (of 30) from the Junior College in June of 1943.
He enlisted in the U.S. Army in November of 1942, but, as a premedical student, was allowed to remain in school until June of 1943. He did basic training in Texas in the summer and autumn of 1943, and was sent with a student military unit to the Agricultural and Mechanical College of Texas for courses in physics and mathematics. In early 1944 he was transferred to a student military unit in Chicago and began medical studies at the University of Illinois, having been accepted in open competition with all other applicants, Army, Navy or civilian. The course was continuous ("We finished one year on Saturday at noon and started the next year at 8 AM Monday morning"). After the end of the war, he received an honorable discharge from the army in March of 1946.
He finished third year and studied fourth year medicine as a civilian and was elected to Alpha Omega Alpha, the honor medical fraternity in 1947. He received an M.D. (with honors) from the University of Illinois, College of Medicine, in June of 1947. He served a one-year internship at the Cook County Hospital in Chicago, and became a licensed physician by examination, State of Illinois, in 1948.
He married Dorothy Chalacombe Dungan, a Quaker from Downer's Grove, Illinois, 4 June, 1948. Their first home together was in Elk City, Oklahoma, where Stevens worked as a family physician at the Co-operative Hospital and Clinic.
Stevens, having gradually become convinced that war is perhaps the greatest evil of human-kind, wished to avoid being drafted for military service in Korea. He and Dorothy moved to Fauquier and then to Edgewood in British Columbia in November of 1950. He passed the examination of the Medical Council of Canada and worked as a family physician in a very remote area in the mountainous interior of British Columbia. He served as a resident in general surgery at the University of Alberta in Edmonton 1953-57 and as a Clinical Instructor in Surgery 1957-59. He became a certified surgeon by examination in 1957 and a Fellow of the Royal College of Physicians of Canada by examination in 1958.
Stevens and Dorothy became Canadian citizens 15 March 1957. In 1959 they moved to Colchester in England, where he worked for two years as a Surgical Registrar in General Surgery at the Essex County Hospital.
In August of 1961 they moved to Halifax, Nova Scotia, where Stevens became a full-time member of the Department of Surgery at Dalhousie University. He advanced from Assistant Professor to Associate Professor to Full Professor over a period of several years, becoming Professor Emeritus after retirement.
Their daughter, Cynthia Jean Norvell, was born in Colchester 26 March, 1961. Their son, Theodore Stevens Norvell, was born in Halifax 19 June, 1963.
Stevens worked as a General Surgeon with a special interest in cancer surgery. He served for many years as director of the General Surgical Resident Training Programme at The Victoria General Hospital and later for Dalhousie University. He took an early interest in multiple choice examinations for surgical residents in Canada, and he created and for 19 years edited the Examination for Residents of the Canadian Association of General Surgeons. The Norvell Prizes are still awarded each year to the top performers in each year of training in all 17 Canadian Medical Schools. He was interested in lymphography and did the first hundred lymphangiograms done in Halifax. His greatest clinical interest was in malignant melanoma and in prevention and treatment of its metastasises. Much of his research was in this area. He wrote or contributed to about 50 publications in the medical literature. He retired in 1993 but continued to teach occasionally for a few years.
Stevens and Dorothy divorced in 1978. He did not marry again.
In retirement Stevens became a fluent speaker of Esperanto, travelled to many countries using Esperanto, was host to many travelling Esperantists in his home in Halifax, and took pride in his library of 2000 Esperanto books. About 150 of his articles were published in various Esperanto periodicals, and he helped in the editing of three Esperanto dictionaries. He also studied computer programming and mathematics.
In 2008 he moved to St. John's in Newfoundland to live with his son, Theodore, Theodore's partner, Cheryl Schulz, and their daughter, Saskia Lynne Schulz-Norvell. Theodore is a professor of Computer Engineering at Memorial University in St. John's. Stevens's daughter, Cindy, married Coleman Palmieri in a Quaker meeting in Berkeley, California, and is a family physician in Laytonville in Mendocino County, California; they have 2 children, Teo Adriano Norvell Palmieri and Rhiannon Palmieri.
In his latter years Stevens suffered from a number of chronic illnesses expected among octogenarians and nonagenarians. Despite physical disabilities, his mind remained strong, curious, and active; he was especially proud of his marks in university calculus courses taken late in life.
His family would like to thank the nurses of 7 West, St. Clare's Hospital, Dr. Sahar Iqbal, Cecile Abuque, Dr. Katherine Stringer, Denise Cahill, NP, the Community Health nurses of Eastern Health, Kim Furlong, PT, Wendy Janes, and many others for their extraordinary care and kindness. In lieu of flowers, donations may be made to Medcin Sans Frontiers or Oxfam.
We plan to have a memorial in Halifax in summer 2015.